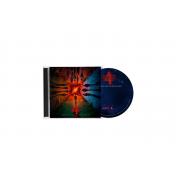 Spis utworów:
1. Separate Ways (Worlds Apart) (Bryce Miller/Alloy Tracks Remix)
2. California Dreamin'
3. Psycho Killer
4. Running Up That Hill (A Deal with God)
5. You Spin Me Round (Like a Record)
6. Chica Mejicanita
7. Play With Me
8. Detroit Rock City (Single Version)
9. I Was A Teenage Werewolf
10. Pass the Dutchie
11. Wipe Out
12. Object Of My Desire (Single Version)
13. Rock Me Amadeus (The Gold Mix)
14. Travelin' Man
15. Tarzan Boy
16. Dream a Little Dream of Me
17. Rock and Roll, Hoochie Koo (Single Version)
18. Fire and Rain
19. Spellbound
20. Master of Puppets
21. When It's Cold I'd Like To Die
22. Separate Ways (Worlds Apart) (Steve Perry & Bryce Miller Extended Remix)
Wykonawca: MUZYKA FILMOWA
Tytuł: STRANGER THINGS: SOUNDTRACK FROM THE NETFLIX SERIES, SEASON 4
Dystrybutor: SONY MUSIC / SONY MUSIC PL
Premiera: 09.09.2022. Album "Stranger Things: Soundtrack from the Netflix Series, Season 4" zawiera kluczowe utwory z różnych epok i stylów, które znalazły się w najnowszym sezonie hitowego serialu. Płyta została wyprodukowana przez The Duffer Brothers oraz Norę Felder, która nominowana była do prestiżowych nagród Grammy oraz Emmy. Felder jest odpowiedzialna za muzykę w serialu od pierwszego sezonu.