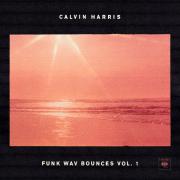 Spis utworów:
1. Slide (feat. Frank Ocean & Migos)
2. Cash Out (feat. ScHoolboy Q, PARTYNEXTDOOR & D.R.A.M.)
3. Heatstroke (feat. Young Thug, Pharrell Williams & Ariana Grande)
4. Rollin (feat. Future & Khalid)
5. Prayers Up (feat. Travis Scott & A-Trak)
6. Holiday (feat. Snoop Dogg, John Legend & Takeoff)
7. Skrt On Me (feat. Nicki Minaj)
8. Feels (feat. Pharrell Williams, Katy Perry & Big Sean)
9. Faking It (feat. Kehlani & Lil Yachty)
10. Hard to Love (feat. Jessie Reyez)
Wykonawca: CALVIN HARRIS
Tytuł: FUNK WAV BOUNCES VOL.1
Dystrybutor: SONY MUSIC PL
Premiera 30.06.2017r. Calvin Harris jest bez wątpienia jednym z najpopularniejszych DJów i producentów na świecie. Współpracuje z największymi gwiazdami i nie inaczej jest na jego najnowszej płycie "Funk Wav Bounces Vol. 1" na której usłyszymy aż 19 gwiazd współczesnej sceny pop i hip-hop. A są to m.in. Katy Perry, John Legend, Ariana Grande,, Pharrell Williams, Frank Ocean, Travis Scott, Future, Big Sean, Migos, Schoolboy Q, Nicki Minaj i Snoop Dogg. Album promują single "Slide" z Frankiem Oceanem i Migos, oraz "Heatstroke" z Arianą Grande, Pharrellem Williamsem, które zwiastują zmianę kierunku muzycznego szkockiego producenta. Tym razem Calvin Harris postawił na oldskulowe syntezatory oraz słoneczne, disco-funkowe brzmienia, które podbiją zarówno klubowe parkiety, jak i plażowe bary. "Funk Wav Bounces Vol. 1" to pierwsza płyta studyjna Calvina od czasu "Motion" z 2014 roku. Album ukazuje się na płycie CD i na winylu.