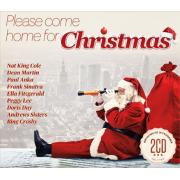 Spis utworów:
1. White Christmas - Dean Martin
2. Frosty The Snowman - Ella Fitzgerald
3. Have Yourself A Merry Little Christmas - Frank Sinatra
4. Let it snow, Let it snow, Let it snow - Dean Martin
5. The Christmas Song - Nat King Cole
6. Santa Baby - Eartha Kitt
7. Rudolph The Red Nosed Reindeer - Dean Martin
8. Jingle Bell Rock - Chet Atkins
9. Zat You Santa Claus - Louis Armstrong
10. Sleigh Ride - Diamonds
11. Joy To The World - Nat King Cole
12. Last Christmas - The Three Degrees
13. I've Got My Love To Keep Me Warm - Dean Martin
14. The Little Drummer Boy - Pete King Chorale And Orchestra
15. Mrs Santa Claus - Alma Cogan
16. A Holly Jolly Christmas - Starshine Orchestra
17. O Little Town Of Bethlehem - Nat King Cole
18. Silver Bells - Doris Day With The Norman Luboff Choir & Orchestra
19. Deck THe Halls - Billy Vaughn
20. It Came Upon a Midnight Clear - Johnny Mathis
21. This Time Of Year - Brook Benton
22. Christmas Alphabet - Mcguire Sisters
23. Feliz Navidad - Ric Baptist, Andy Street & The Tijuana Sound, Vocals Kahlia Rock
24. Wyjątkowy Czas - Święta - Kancelarya
25. Na Niebie Już Świeci Pierwsza z Gwiazd - Kancelarya
26. A Ty Śpij Cicho Tak - Kancelarya
Wykonawca: RÓŻNI WYKONAWCY
Tytuł: PLEASE COME HOME FOR CHRISTMAS
Dystrybutor: SOLITON
Premiera - październik 2013. 2CD. "Kevin sam w domu", "Witaj Święty Mikołaju", Bajki Disney'a itd. Corocznie towarzyszą nam w okresie Świąt Bożego Narodzenia. Przeboje które w nich słyszymy tworzą niezapomniany nastrój, wprowadzają radosną atmosferę Świąt w każdym domu. Utwory z dwupłytowego albumu Please Come Home For Christmas to największe światowe przeboje, które od wielu lat towarzyszą nam w tym wyjątkowym okresie. Bardzo starannie dobrany repertuar, wiele piosenek od lat na najwyższych miejscach świątecznych list przebojów na całym Świecie! Dodatkowym atutem wydawnictwa są wielcy artyści, wyjątkowe głosy i przede wszystkim oryginalne wykonania . Bo któż z nas nie zna takich wykonawców jak: Dean Martin, Ella Fitzgerald, Frank Sinatra, Louis Armstrong, Nat King Cole, Paul Anka, Bind Crosby, Chuck Berry czy Boston Bops Orkiestra. Obok tracklista CD 1.