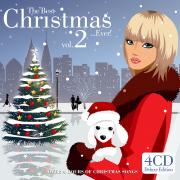 Spis utworów:
1. MICK HUCKNALL - Happy This Christmas
2. STEVIE WONDER - What Christmas Means To Me
3. HURTS - All I Want For Christmas Is New Year's Day
4. NATASHA BEDINGFIELD - Shake Up Christmas
5. COLDPLAY - Christmas Lights
6. GABRIELLE APLIN - The Power Of Love
7. THE DARKNESS - Christmas Time (Don't Let The Bells End)
8. JAMELIA - Last Christmas
9. LIONEL RICHIE - Joy To The World
10. EVERYTHING BUT THE GIRL - 25th December
11. CLIFF RICHARD - Little Town
12. AZTEC CAMERA - Walk Out To Winter
13. VANESSA WILLIAMS - Oh How The Years Go By
14. IL DIVO - When A Child Is Born
15. ALL-4-ONE - The First Noel
16. CHRISTINA PERRI - Something About December
17. PRETENDERS - 2000 Miles
18. LEE RITENOUR - White Christmas
19. STINA NORDENSTAM - Soon After Christmas
Wykonawca: RÓŻNI WYKONAWCY
Tytuł: THE BEST CHRISTMAS ALBUM ... EVER! VOL.2
Dystrybutor: POMATON / WARNER MUSIC PL
Premiera - 05.11.2013. 4CD. "The Best Christmas…Ever! vol. 2" to kontynuacja bestsellerowej świątecznej kompilacji "The Best Christmas…Ever!", która ukazała się w 2006 roku i zagościła w ponad 100 tyś domów. Na 4 płytach cd usłyszymy znakomitych polskich i zagranicznych artystów śpiewających tradycyjne kolędy, pastorałki i piosenki bożonarodzeniowe. "The Best Christmas….Ever! vol. 2" to kwintesencja świątecznych dźwięków. Na albumie między innymi: Mick Hucknall, Steveie Wonder, Hurts, Coldplay, Il Divo, Lionel Richie, Andy Williams, Kylie Minogue, Natalie Cole, Johnny Cash, Doris Day, Kayah, Czerwone Gitary, Skaldowie, Kasia Kowalska, Golec Orkiestra, Urszula, Piotr Rubik i wielu, wielu innych. Polecamy i życzymy Wesołych Świąt! Obok tracklista CD 1.