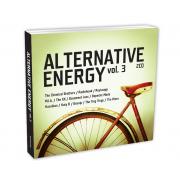 Spis utworów:
1. Kasabian - Days Are Forgotten
2. Depeche Mode - It's No Good
3. The Hives - Go Right Ahead
4. Passion Pit - Take A Walk
5. The Ting Tings - Shut Up And Let Me Go
6. WALK THE MOON - Anna Sun
7. Scouting For Girls - Famous
8. Miles Kane - First of My Kind
9. The Shins - Simple Song
10. Soma - Get Down
11. Modest Mouse - Float On
12. Mark Ronson featuring Daniel Merriweather - Stop Me
13. Oasis - Don't Look Back In Anger
14. Newton Faulkner - Dream Catch Me
15. Kent - If You Were Here
16. Radiohead - Paranoid Android
17. Dry The River - New Ceremony
Wykonawca: RÓŻNI WYKONAWCY
Tytuł: ALTERNATIVE ENERGY 3
Dystrybutor: SONY MUSIC PL
Premiera - 28.08.2012. To już trzecia część serii prezentująca najlepsze dokonania sceny alternatywnej. Tak jak i na poprzednich wydawnictwach pierwszy krążek to rockowe klimaty tym razem reprezentowane przez Radiohead, Kasabian czy The Ting Tings. Druga płyta to z kolei imprezowe granie w stylu The Chemical Brothers, Basement Jaxx, Katy B, czy M.I.A. Alternatative Energy 3 czyli dawka energii z alternatywnych źródeł muzycznego zasilania do potęgi trzeciej! Obok tracklista CD 1.