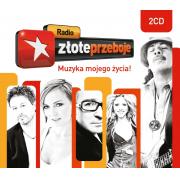 Spis utworów:
1. Michael Jackson - Smooth Criminal
2. Shakira feat. Freshlyground - Waka Waka (This Time for Africa)
3. Whitney Houston - I Wanna Dance With Somebody
4. Tina Turner - The Best
5. Roxette - How Do You Do!
6. Andrzej Piaseczny - Śniadanie do łóżka
7. Hurts - Stay
8. Lady Pank - Mój świat bez ciebie
9. Sade - Smooth Operator
10. Leona Lewis - Bleeding Love
11. Christina Aguilera - Beautiful
12. Toto - Rosanna
13. Cyndi Lauper - True Colors
14. Garou - Gitan
15. Anna Wyszkoni - Wiem, że jesteś tam
16. Train - Hey, Soul Sister
17. Santana - Samba Pa' Ti
18. Within Temptation feat. Chris Jones - Utopia
19. De Mono - Ostatni pocałunek
Wykonawca: RÓŻNI WYKONAWCY
Tytuł: RADIO ZŁOTE PRZEBOJE - MUZYKA MOJEGO ŻYCIA!
Dystrybutor: SONY MUSIC PL
Premiera - 13.03.2012. Płyta "Radio Złote Przeboje, Muzyka Mojego Życia!" zawiera 38 największych hitów ostatnich czterech dekad. Na dwóch krążkach zestaw utworów, który towarzyszy nam od lat w radiu Złote Przeboje. Wśród nich m.in. "Smooth Criminal" Michaela Jacksona, "The Best" Tiny Turner, "I'm So Excited" The Pointer Sisters, "How Do You Do" Roxette, "I Wanna Dance With Somebody" Whitney Houston czy "Waka Waka" Shakiry. Album radia Złote Przeboje "Muzyka Mojego Życia" to plejada polskich i zagranicznych gwiazd: Andrzej Piaseczny, Garou, Ania Wyszkoni, De Mono, La Bouche, Sade, czy Santana. To kompendium hitów, które na stałe wpisały się w muzyczne listy największych przebojów, to najlepsza muzyka Twojego życia! Obok tracklista CD 1.