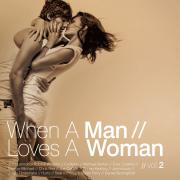 Spis utworów:
1. Michael Bolton - When A Man Loves A Woman
2. Joe Cocker - Never Tear Us Apart
3. Seal - Stand By Me
4. Lenny Kravitz - Again
5. Robbie Williams - Angel
6. CuttingCrew – (I Just) Died In Your Arms
7. Prince - I Wanna Be Your Lover
8. Justin Timberlake - Cry Me A River
9. Ronan Keating - If You Say Nothing At All
10. George Michael - I Can't Make You Love Me
11. Hurts - Stay
12. Daniel Bedingfield - If You're Not the One
13. Jamiroquai - You Give Me Something
14. Lynden David Hall – Sexy Cinderella
15. Simon Webbe – Lay Your Hands
16. Jon Secada - Just Another Day
17. Elvis Costello - She
Wykonawca: RÓŻNI WYKONAWCY
Tytuł: WHEN A MAN LOVES A WOMAN VOL.2
Dystrybutor: POMATON / EMI MUSIC PL
Premiera - 06.03.2012. "WHEN A MAN LOVES A WOMAN VOL. 2" to kontynuacja wyjątkowej składanki, która ukazała się w 2010 roku i niezwykle przypadła do gustu słuchaczom a w szczególności słuchaczkom. Wyjątkowość tej składanki polegała na tym, że to wyjątkowi mężczyźni śpiewali dla Pań. I tym razem też tak jest… Na dwóch krążkach albumu "WHEN A MAN LOVES A WOMAN VOL. 2" znajduje się szereg piosenek w wykonaniu aksamitnych, poruszających męskich głosów. Na "WHEN A MAN LOVES A WOMAN VOL. 2 " usłyszymy m.in. Robbiego Willamsa, Michaela Boltona, Joe Cockera, Coldplay, Georga Michaela, Hurts, Billa Withersa i wielu, wielu innych…. Obok tracklista CD 1.