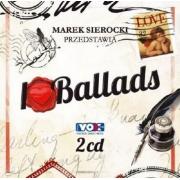 Spis utworów:
1. Jennifer Rush - The Power Of Love
2. George Michael - Careless Whisper
3. Chris de Burgh - Lady In Red
4. Foreigner - I Want To Know What Love Is
5. Sade - Your Love Is King
6. Michael Jackson - You Are Not Alone
7. Berlin - Take My Breath Away (Love Theme From "Top Gun")
8. Spandau Ballet - True
9. Cyndi Lauper - Time After Time
10. Roxy Music - Avalon
11. The Alan Parsons Project - Time
12. ELO - Ticket To The Moon
13. Toto - I'll Be Over You
14. REO Speedwagon - Keep On Loving You
15. Double - Captain Of Her Heart
16. Savage Garden - Truly Madly Deeply
17. Michael Learns To Rock - The Actor
18. Backstreet Boys - Quit Playing Games
Wykonawca: RÓŻNI WYKONAWCY
Tytuł: MAREK SIEROCKI PRZEDSTAWIA: I LOVE BALLADS (2012)
Dystrybutor: SONY MUSIC PL
Premiera - 06.02.2012. "I Love Ballads" to kolejna część bestsellerowej serii "I Love..." sygnowanej nazwiskiem znanego dziennikarza muzycznego Marka Sierockiego. Tym razem album zawiera najpiękniejsze światowe ballady, tworząc idealny zestaw na romantyczne wieczory we dwoje. Na dwóch krążkach czterdzieści nastrojowych utworów. Wśród nich : "Carless Whisper" Georga Michaela, "Take My Breath Away" zespołu Berlin, "Un Break My Heart" Toni Braxton czy "You're Not Alone" Michaela Jacksona. Wśród artystów, którzy zagoszczą na płycie są m.in.: Sade, Santana, Michael Jackson, Alicia Keys, Shakira, R. Kelly, Leona Lewis, E.L.O., Boston, Cyndi Lauper, Earth, Wind & Fire, Eric Carmen, Europe, Jennifer Rush, Natalie Imbruglia, Savage Garden, Toto. Obok tracklista CD 1.