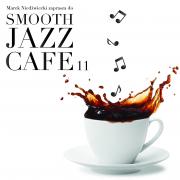 Spis utworów:
1. PETER CINCOTTI - MY FAVOURITE THINGS
2. MELODY GARDOT/ CHARLIE HADEN QUARTET WEST - IF I'M LUCKY
3. DAVE KOZ, HERB ALPERT - THIS GUY'S IN LOVE WITH YOU
4. BASIA & MIETEK SZCZEŚNIAK – WANDERING
5. PAWEL ROSAK – LOVE WILL ALWAYS FLOW
6. ELIANE ELIAS - LIGHT MY FIRE
7. SPENCER DAY - TILL YOU COME TO ME
8. ROBERT KUBISZYN – BEFORE SUNRISE
9. SACHAL VASANDANI – I WAS JUST ONE MORE FOR YOU
10. FOURPLAY AND ANITA BAKER - YOU'RE MY THRILL
11. GINO VANNELLI – BROTHER TO BROTHER
12. KARI BREMNES – FIOLA
13. THE RIPPINGTONS, RUSS FREEMAN - POSTCARD FROM CANNES
14. MADELEINE PEYROUX - MEET ME IN RIO
15. KEIKO MATSUI AND RICHARD BONA - FALCON'S WING
Wykonawca: RÓŻNI WYKONAWCY
Tytuł: SMOOTH JAZZ CAFE 11
Dystrybutor: MAGIC RECORDS / UNIVERSAL MUSIC PL
Premiera - 07.10.2011. To już jedenasta odsłona jednej z najbardziej znanych i najdłużej istniejących serii kompilacji na polskim rynku. Marek Niedźwiecki po raz kolejny przygotował zestaw znakomitych nagrań mistrzów i klasyków gatunku smooth jazz. Na dwupłytowym albumie albumie nie zabraknie ulubionych artystów autora min. Basi, Melody Gardot, Jamie Culluma, Charliego Hadena, czy Petera Cincotti. Obok tracklista CD 1.