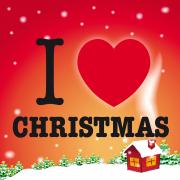 Spis utworów:
1. John & Yoko And The Plastic Ono Band With The Harlem Community Choir - Happy Xmas (War Is Over)
2. Chris Rea – Driving Home For Christmas
3. The Beach Boys - Little Saint Nick
4. Andy Williams – Sleigh Ride
5. Dean Martin - Let It Snow! Let It Snow! Let It Snow!
6. Frank Sinatra – Jingle Bells
7. Kylie Minogue - Santa Baby
8. Human Nature – Last Christmas
9. Stevie Wonder - What Christmas Means To Me
10. Mel & Kim – Rockin' Around The Christmas Tree
11. Aretha Franklin - Winter Wonderland
12. Lou Rawls - Have Yourself A Merry Little Christmas
13. Nat King Cole - The Christmas Song (Merry Christmas To You)
14. Glen Campbell - I'll Be Home For Christmas
15. Cliff Richard - Mistletoe And Wine
16. Vanessa Williams - Oh How The Years Go By
17. Wizzard - I Wish It Could Be Christmas Everyday
18. Bing Crosby - I Wish You A Merry Christmas
Wykonawca: RÓŻNI WYKONAWCY
Tytuł: I LOVE CHRISTMAS
Dystrybutor: POMATON / EMI MUSIC PL
Premiera - 26.10.2010. "I Love Chritmas" to podwójnie świąteczny album, wydany z myślą o nadchodzących Świętach. Na jednym krążku obok takich sław jak Nat King Cole, Dean Martin czy Frank Sinatra usłyszymy m.in. Johna Lennona z Yoko Ono, Kylie Minogue czy Steviego Wondera śpiewających znane piosenki bożonarodzeniowe. Drugi krążek to najpiękniejsze polskie kolędy w wykonaniu czołowych polskich artystów oraz trzy wyjątkowe piosenki świąteczne. W sumie ponad 2 godziny ciepłych, świątecznych dźwięków! Obok tracklista CD 1.