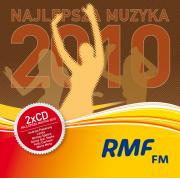 Spis utworów:
1. Shakira featuring Freshlygroun - Waka Waka (This Time for Africa)
2. Flo-Rida Feat. David Guetta - Club Can't Handle Me
3. Hurts - Wonderful Life
4. Alexandra Burke - All Night Long
5. Adam Lambert - Whataya Want From Me
6. Ania Wyszkoni - Wiem, że jesteś tam
7. P!nk - Funhouse
8. Sara Bareilles - King Of Anything (Album Version)
9. Mike Posner - Cooler Than Me
10. Armin Van Buuren vs. Sophie Ellis-Bextor - Not Giving Up On Love
11. IRA - Dlaczego Nic
12. Eliza Doolittle - Pack Up
13. Lady Antebellum - Need You Now
14. Volver - Volvermos
15. Olly Murs - Please Don't Let Me Go
16. Lena Meyer-Landrut - Satellite
17. Alex Gaudino - I'm In Love (I Wanna Do It) (Radio Edit)
18. Grzegorz Markowski & Ryszard Sygnatowicz - To
19. Maroon 5 - Misery
20. Ke$ha - TiK Tok
Wykonawca: RÓŻNI WYKONAWCY
Tytuł: RMF FM NAJLEPSZA MUZYKA 2010
Dystrybutor: SONY MUSIC PL
Premiera - 25.10.2010. "RMF FM Najlepsza Muzyka 2010" to kolejna kompilacja serii składanek z wyborem najlepiej rozgrywanych singli na antenie radia RMF FM. Album prezentować będzie największe hity tylko bieżącego roku! Na dwóch CD znajdą się przeboje królujące na pierwszych miejscach listy przebojów RMF FM. Wśród nich największy przebój 2010 roku "Waka Waka" Shakiry, a zaraz za nim kolejni stali bywalcy list przebojów – Hurts z "Wonderful Life", Kesha z "Tik Tok", Adama Lambert i "Whataya Want From Me", Alexandra Burke "All Night Long" czy Christiny Aguilera "Not Myself Tonight". Tto tylko niektóre z 40 hitów, które podsumowują muzyczne osiągnięcia roku 2010. Tych utworów nadal słucha cała Polska! Obok tracklista CD 1.