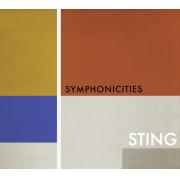 Spis utworów:
1. Next To You
2. Englishman In New York
3. Every Little Thing She Does Is Magic
4. I Hung My Head
5. My Ain True Love
6. Roxanne
7. When We Dance
8. End of the Game
9. I Burn For You
10. We Work the Black Seam
11. She's Too Good For Me
12. The Pirate's Bride
Wykonawca: STING
Tytuł: SYMPHONICITIES
Dystrybutor: DEUTSCHE GRAMMOPHON / UNIVERSAL MUSIC PL
Premiera 16.07.2010. Na płycie pojawią się największe przeboje Stinga w nowych orkiestrowych aranżacjach. Autorami aranżacji utworów Stinga z czasów, kiedy Sting był liderem The Police ("Roxanne" czy "Next To You") oraz późniejszej solowej kariery ("Englishman in New York," "She's Too Good For Me" czy "I Hung my Head") są David Hartley i Steven Mercurio. Mixem utworów zajęli się Elliot Scheiner (Steely Dan, Fleetwood Mac) oraz Claudius Mittendorfer (Interpol, Franz Ferdinand), Alex Venguer (John Legend) i Ed Cherney (Bonnie Rait, Bob Dylan).

3 - krotna